SafeDNS Integration Types: Which One is Right for Your Business?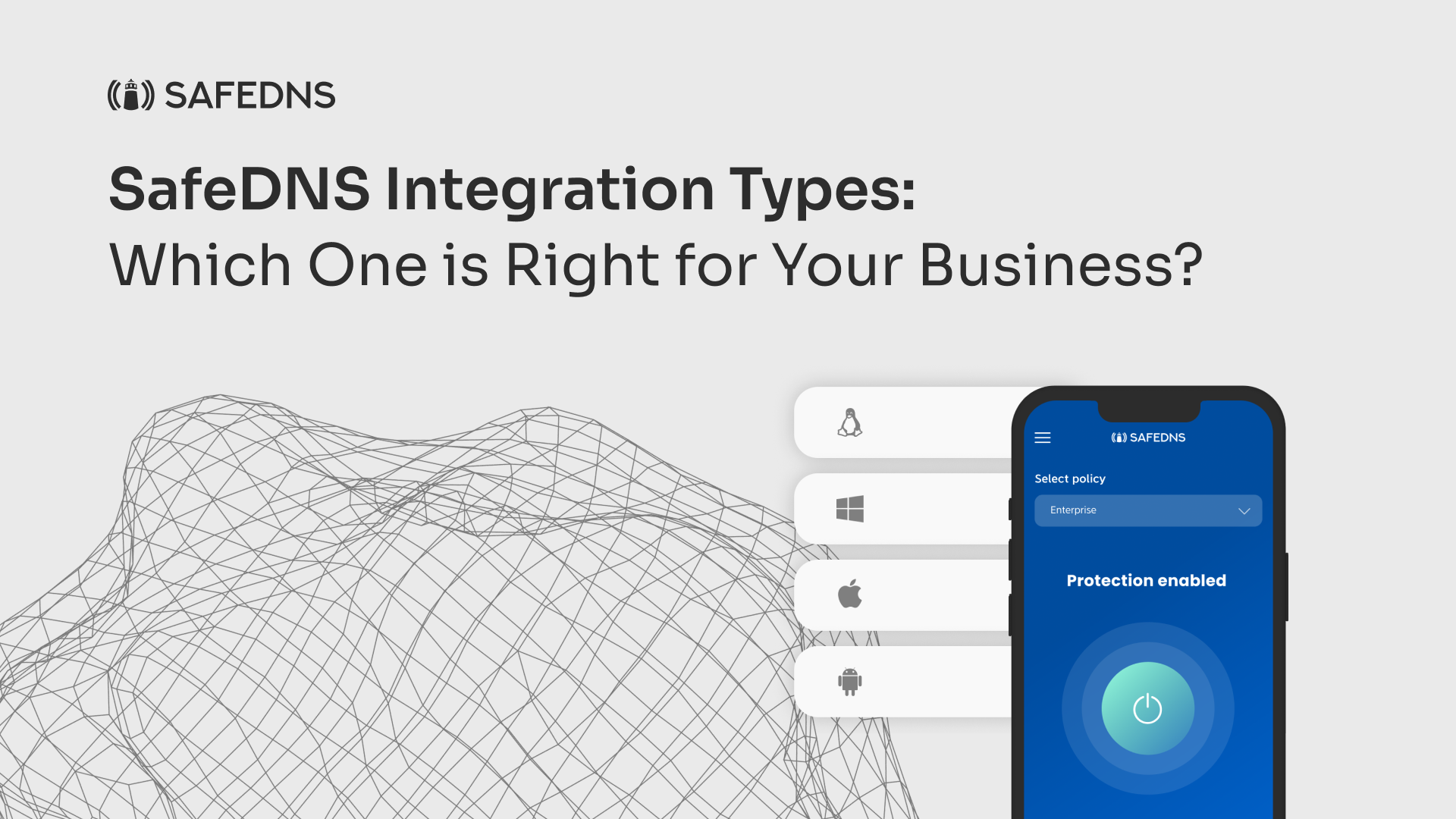 When it comes to protecting your organization from cyber threats, integrating SafeDNS is a must. However, with so many integration types available, it can be overwhelming to choose the right one for your organization. In this article, we'll explore the top SafeDNS integration types and what they entail to help you make an informed decision.
IP Addresses / DynDNS: Simple Setup
Using IP addresses or Dynamic DNS (DynDNS) hostname is a straightforward integration method. By simply setting the DNS server IP addresses on your network devices or configuring the DynDNS service to use SafeDNS, you can ensure all your network devices are protected. This integration is compatible with both IPv4 and IPv6, making it a versatile solution for businesses of all sizes.
DD Client: Hassle-Free SafeDNS Integration for Dynamic IP Addresses
Organizations with dynamic IP addresses can benefit from a DD Client integration. The DD Client is a SafeDNS feature that allows businesses with dynamic IP addresses to ensure their filtering policies remain active even when their IP address changes. The DD Client transmits the client's IP address to the SafeDNS dashboard but does not change DNS settings itself. To ensure that SafeDNS filtering is applied correctly, DNS settings must be changed manually on each device.
Agents: Customizable Internet Access Control with SafeDNS
For businesses with a large number of users or devices, an Agents integration is an efficient option. By installing software agents on each device, you can apply policies on a per-user basis. The agent supports installation through silent keys, allowing for quick and easy installation on a large number of devices using a script. This is useful for organizations with different departments or user roles that require different levels of internet access.
VPN Integration: for Devices without the Agent
If some devices cannot have the SafeDNS Agent installed, VPN integration can be used instead. OpenVPN creates a VPN tunnel using the SafeDNS configuration file, ensuring all DNS queries are filtered through SafeDNS. Unlike regular VPN services, OpenVPN does not change or hide your public IP. It only receives filtering rules from your dashboard, ensuring you stay connected while maintaining high levels of security.
NAT DNS: Comprehensive SafeDNS Protection for Large Networks
Network Address Translation or NAT DNS is a SafeDNS feature frequently used in corporate networks. It enables different filtering policies for networking hardware, such as routers and gateways, behind NAT with a single public IP. This technology allows businesses to secure their local networks, decrease the number of static IPs, prevent unwanted external access to local hosts, and manage filtering policies for all devices connected to the network, regardless of their location.
In conclusion, choosing the right SafeDNS integration type can improve the security and efficiency of your organization's internet access. Consider the size of your organization, the number of devices you have, and the level of security required when selecting the right integration type for your needs.
---
Start using SafeDNS for free
Take advantage of the SafeDNS trial period and try all the best features