AGCOM releases new law for Italian ISP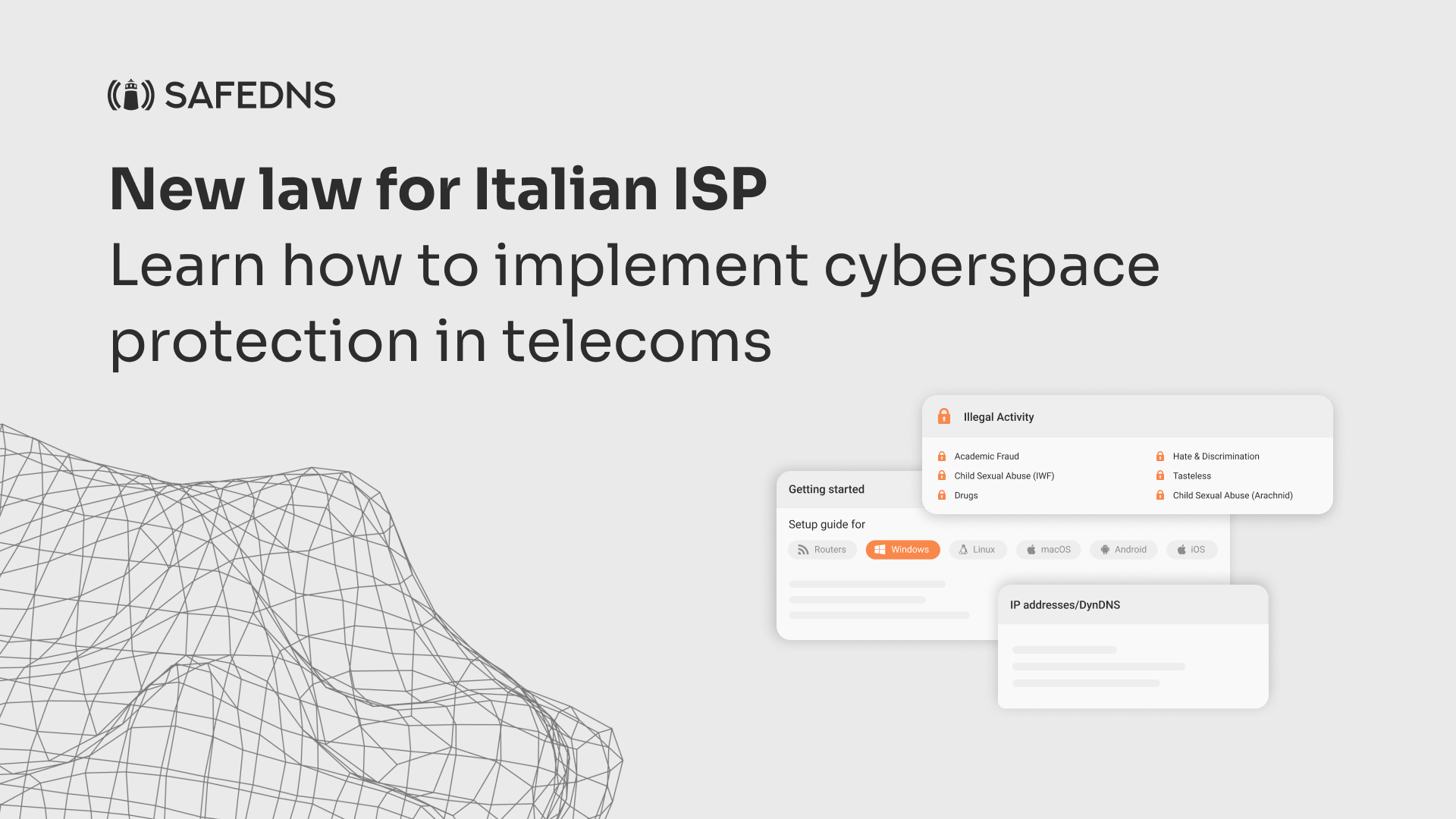 Recently, the Italian government has released a new document related to ISPs being obligated to implement a content filtering solution in order to block certain types of content. The Guidelines, which do not apply to business customers, require that the Internet service providers (ISPs), whatever the technology used to deliver the service, set up systems of parental control (PCS), i.e., filtering inappropriate content for minors and blocking of content reserved for an audience with members under the age of 18. The document is named Protecting Minors in Cyberspace, AGCOM Resolution (Protezione Del Minori Nel Cyberspazio, Delibera Dell'AGCOM).
In the Guidelines, the Authority provides a preliminary listing of the main categories subject to the filtering of parental control systems, including Adult Content, Gambling/Betting, Weapons, Violence, Hate and Discrimination, and others. Operators will be required to notify the Authority of the categories used for the systems of Parental control, the minimum functionality of which must include at least the blocking of domains and websites hosting filtered content.
According to the Guidelines, parental control systems must be offered by ISPs free of charge to consumers and at no cost related to the activation, deactivation, configuration or operation of them.
Italy does already have laws related to online content, including the 2018 "Dignity Decree," which aimed to tackle fake news, hate speech, and other forms of online abuse. The decree included measures to create a national register of journalists, establish new regulations for social media platforms, and allow for the removal of fake news and hate speech.
In addition, Italy has laws that require ISPs to block access to websites that promote terrorism, child pornography, or other illegal activities. ISPs are required to comply with requests from law enforcement agencies to block access to these sites.
To address the functionality of web filters, it must be said that they can be used to block access to inappropriate content, such as pornography or violent imagery, which may be harmful to children. By implementing web filters, ISPs can help ensure that children are not exposed to content that could be damaging to their development.
Additionally, DNS filtering blocks access to websites that are known to host malware or other malicious software. By adding web filtering as one of the features, ISPs can help protect their users from cyber threats and keep their networks secure.
Another reason for implementing a web filtering service for ISP would be compliance with regulations. ISPs may be required by law to filter out certain types of content, such as hate speech or illegal activities of people, so that ISPs can ensure that they are in compliance with these regulations.
ISPs of Italy are welcome to get a free consultation with our specialists and learn how to easily implement SafeDNS web filtering in no time.
What's AGCOM
AGCOM, or the Italian Communications Regulatory Authority (Autorità per le Garanzie nelle Comunicazioni), plays a pivotal role in carrying out regulatory and supervisory functions in the areas of telecommunications, television, newspapers and postal services in Italy. Responsible for regulating the country's internet service providers (ISPs), AGCOM ensures compliance with industry standards, consumer protection, and fair competition. With the introduction of a new law aimed at Italian ISPs, AGCOM's authority in this sector is set to expand, bringing about potentially transformative changes in the Italian digital landscape.
---
Start using SafeDNS for free
Take advantage of the SafeDNS trial period and try all the best features