New Additions to SafeDNS Categories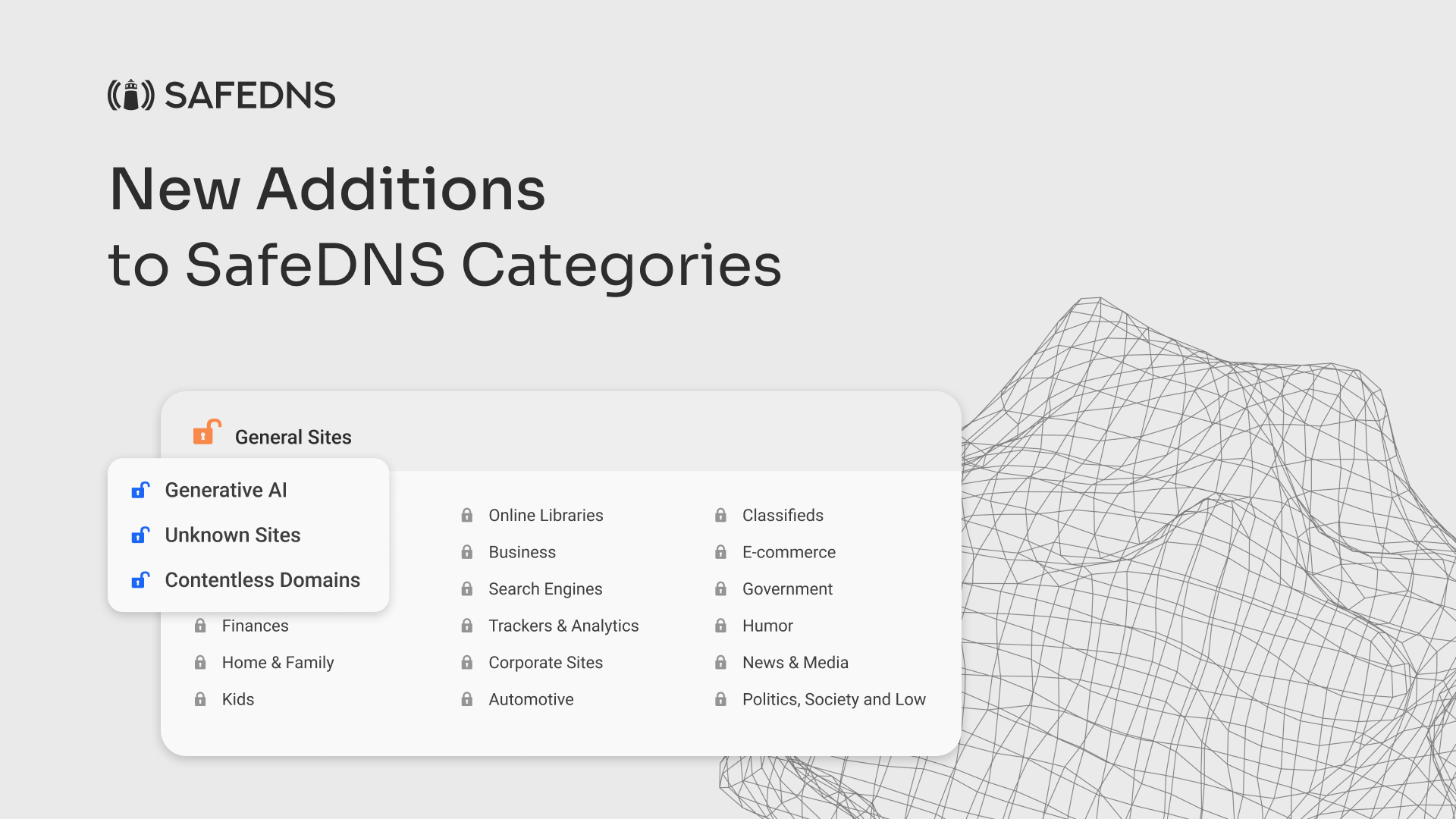 We have some great news to share with you! SafeDNS categories have just been expanded. With a total of 66 categories now available, it's easier than ever to restrict access to specific types of websites with just a single click.
Let's introduce you to the three new categories that have been added.
Generative AI: this category includes websites of popular AI services, chatbots, and text/picture generators. Recognizing these kinds of web sources as a separate category allows users to manage access to AI services, which is particularly relevant for educational organizations today.
Unknown Sites is probably the most anticipated category created to ensure a secure online environment by identifying and analyzing websites that are not yet in our database. Here is the way it works: when you click on a link that is not in the SafeDNS database, a series of machine learning models is launched to check it through. In case the system has not encountered the existing domain before, you are redirected to a blockpage, while the domain itself is "quarantined" and its content is thoroughly scanned. Later, based on the scan and a series of additional checks, the website is assigned a specific category. Unknown sites do not necessarily pose a direct threat, but we strongly recommend you enable this category on your cybersecurity list as the probability of their harmful impact is high anyway.
Contentless Domains: the category includes websites that lack meaningful or legitimate content, unlike Parked Domains, which consist of registered but not used websites displaying advertising content or redirecting to other domains with such content. If you wind up on a contentless domain, you see either an error message or an empty page. While contentless domains themselves may not pose immediate security threats, they can be vulnerable to malicious takeovers. A contentless domain might become a source of malicious software (that is later to be installed on your device) or redirect you to potentially harmful websites. Some services may not identify this kind of domain as dangerous. But not SafeDNS. Enable the Contentless Domains category and protect yourself from all the potential risks mentioned.
As you see, this expanded selection of categories allows users to fine-tune filtering settings with greater precision to meet quite specific security and content control requirements. With more categories at your disposal, there is no chance your online security is in danger!
Stay protected, stay with SafeDNS!
---
Start using SafeDNS for free
Take advantage of the SafeDNS trial period and try all the best features